The world-class tragic play, M Butterfly, has tugged hearts all over the world. And now, this amazing theater show is coming to Cebu! You can watch the show at SM Seaside Centerstage from March 14 to 17, 2019.
Tickets are available at the SM Tickets website and can also be purchased from any SM Mall. The showing venue is divided into four sections. Red tickets (PHP 1,596.00) are designated for the seats at the center sections. Blue tickets (PHP 1,064.00) are for seats on the outer sections.
Here is the schedule of performances in Cebu City: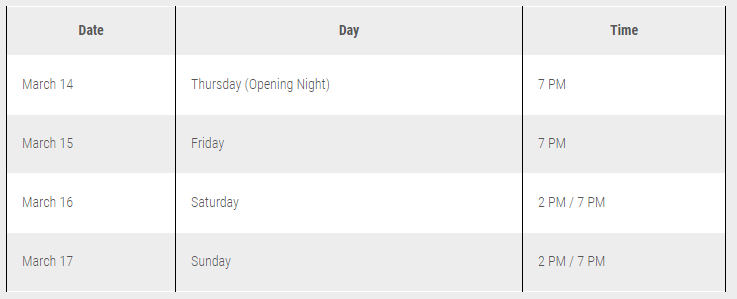 Jhett Tolentino and FRONTROW Entertainment Present M. Butterfly
We all know that Cebuanos are often deprived when it comes to quality theater shows. Logistics and other technical difficulties often hinder top-tier stage plays from gracing our island. These shows often run in our country's capital and that's it. I'm still salty about the fact that the Lion King theater show only happened in Manila.
Thankfully, M Butterfly will flutter its wings our way very soon! We have Jhett Tolentino and FRONTROW Entertainment to thank for this. Mr. Tolentino is a Tony and Grammy award-winning producer and FRONTROW has produced highly acclaimed independent films, such as Bwaya and Bhoy Intsik.
I am super grateful that they decided to bring the whole Madame Butterfly production to Cebu because we Cebuanos could definitely use some more exposure to the arts and culture. It's about time!
Synopsis Inspired by the Giacomo Puccini Original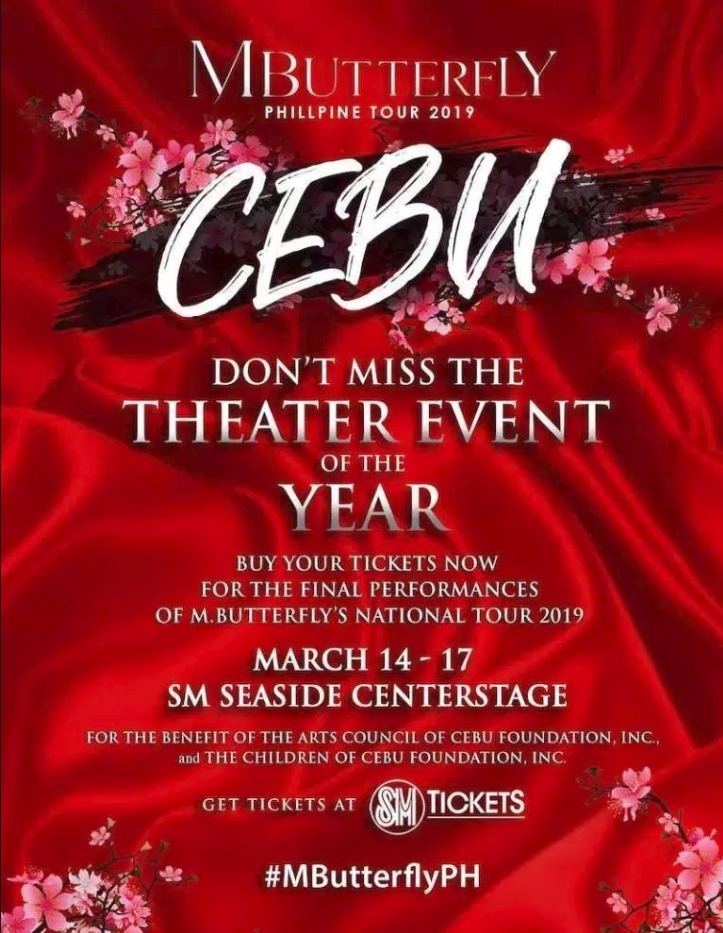 This is the show's synopsis according to the SM Tickets page:
M. Butterfly is a Tony Award-Winning stage play that paints the controversial love affair of French Diplomat René Gallimard and Chinese Opera Singer Song Liling. It is loosely based on a true story that took place in the 1980s. Both entertaining and thought-provoking, this tale's latest revival starring Olivier Borten (as Gallimard) and RS Francisco (as Liling) certainly took Manila by storm and rose to critical acclaim – garnering a total of 6 Aliw Awards nominations for the production.
As you can see, the characters' settings have hugely diverted from the original. For those of you who are familiar with the Madame Butterfly developed by the Italian opera composer, Giacomo Puccini, you may already be aware that the story revolved around an American naval officer and a Japanese girl.
The M. Butterfly that is coming to Cebu, however, is David Henry Hwang's version and will take us on a journey of love, deception, and tragedy in China. I was hoping to see the original story and I was really excited about the Japanese backdrop. But I am also looking forward to this story of a French diplomat and Chinese opera singer. Can't wait to see how this show will unfold on stage!
Members of the Ensemble
Song Liling will be played by the same actor who portrayed him in 2018 – RS Francisco, the 2018 Aliw Award Best Actor winner. The young actor, Aira Igarta, will serve as an alternate for some of the performances. Aira is a UP Diliman stage and film actor.
As for the role of Rene Gallimard, French actor Olivier Borten is taking up that mantle. Other notables will also be wowing us on stage. Jenine Desiderio will portray Helga, Gallimard's wife. Among Desiderio's accolades is her portrayal of Kim in the West End's original Miss Saigon. We will also see highly experienced Scottish stage actor, Norm Mcleod, playing one of the important characters – French Ambassador Manuel Toulon.
Check out more details of the cast and crew at Cebu Finest.
Excited to Watch M. Butterfly!
I love theater shows and I truly wish there will be more of them here in Cebu. I had the awesome opportunity to watch Miss Saigon in Broadway during my trip to the US and I will never forget how amazing of an experience that was. Late last year, my sister and I saw the Addams Family Musical in SM City Cebu and we definitely enjoyed ourselves.
So, when I heard about the M Butterfly National Tour 2019, I got really excited. Yes, another top-level theater production in the city! Can't wait to watch this and I am feeling super optimistic about the future of theater shows here in Cebu!